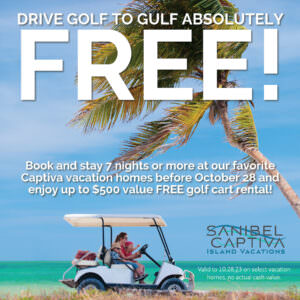 One of the best perks of vacationing on Captiva Island is being near the lush beaches of the Gulf of Mexico. The morning's sunshine will greet you with a warm hello while the sea breeze blows away any worry.
Your entire day is planned out perfectly. First, you'll go to the beach in the morning to grab the Gulf's presents that washed ashore from overnight's change in tide. Then you'll head back to your vacation rental and count how many shells you'll be bragging about to your friends back home.  
After that, you'll head back to the beach for some afternoon fishing followed by a little sunbathing as well. You just have to remember the pole, gear, bait, chair, umbrella, sunscreen, cooler with cold drinks and so on. And then, you'll head back for lunch. 
We could keep going, but that's a lot of back and forth from your vacation home to the beach. Not to mention, depending on how you'd like to spend your day, a lot of lugging back and forth. That's why we've created the perfect solution for all busy-bodies — free golf cart rentals. 
Now through October 28th, 2023, when you book 7 nights or more at some of our favorite Captiva vacation homes, you'll enjoy a free golf cart rental with your stay! With our Golf to Gulf promotion, those trips to and from the beach just got a whole lot shorter, easier and lighter. Which makes hurrying to the beach before the sunset that much easier!